2 Minute Microwave Fudge
1pound of powderd sugar
1/2cup cocoa
1/4cup milk
1Tablespoon vanilla extract
1/4 pound butter or margarine
1 cupchopped nuts
Directions
mix all dry ingredents together in a 8x8 inch microwave safe pan[inportant to use this size pan Add milk vanilla extract.
Place chunk of butter/ margarine in centre leave butter whole do not chop up] Microwave on high for two minutes until bottom of dish feels warm . stir vigorously and blend in chopped nuts put in mold or whatever and chill for 1 hour. use real butter for best results
Margaret's Lemon Cookies
Ingredients
565g [1lb4oz] Flour
340g [12oz] sugar
170g [6oz] Butter
25g [1oz] LemonPeel
4 Eggs
1tbsp Lemon Juice

Procedure
Rub butter into flour
stir in sugar and and very finely minced Lemon peel
when thoroughly mixed, add the well whisked eggs and Lemon juice
Beat the mixture well for a minute or two.
Drop it from a spoon on to a buttered tin. about 5cm [2 inches ] apart as the cookie willspread whenthey get warm
Placethe tin in oven
Baketo a pale brown for 15 to 20 minutes


INGREDIENTS
1 cup butter
1 cup white sugar
2 eggs, separated
2 (1 ounce) squares unsweetened chocolate, melted
1 teaspoon vanilla extract
2 cups all-purpose flour
1/2 teaspoon salt
48 milk chocolate candy kisses, unwrapped
1/3 cup granulated sugar for decoration
DIRECTIONS
Preheat oven to 350 degrees F (175 degrees C). Grease cookie sheets.
In a medium bowl, cream the butter and sugar together. Stir in 2 egg yolks, melted chocolate, and vanilla. Sift together the flour and salt; stir into the creamed mixture.
In a small bowl, slightly beat the remaining egg whites. Roll dough into walnut sized balls. Dip balls into the egg whites, then roll in sugar (or chopped nuts if desired). Place the cookies onto the prepared cookie sheets and make a small indentation in the center with your thumb. Bake for 10 to 12 minutes in the preheated oven. When the cookies come out, press a chocolate kiss into the center of each one. Let stand, and then spread the chocolate candy like frosting, if desired.

INGREDIENTS
3 tablespoons meringue powder
4 cups sifted confectioners' sugar
6 tablespoons water
DIRECTIONS
Beat all ingredients at low speed for 7 to 10 minutes, or until icing forms peaks. Tip: Keep icing covered with a wet kitchen towel at all times. Icing can dry out quickly.
Garlic-Roasted Lamb
Ingredients
1 shank half leg of lamb (about 3 pounds)
1/8 teaspoon each salt and pepper
8 cloves garlic, sliced in half lengthwise
2 large sprigs fresh rosemary or 2 teaspoons dried
2 teaspoons olive or canola oil
4 large sweet potatoes, peeled and cut into 1-inch cubes
6 parsnips, cut into 1-inch pieces
Introduction:
Use fresh rosemary, if possible (many supermarkets carry it). The flavor it imparts to the lamb will be far superior to that of dried. If you like, white potatoes may be substituted for the sweet potatoes, and turnips for the parsnips. You can also flavor lamb by covering it with lemon slices before roasting.

Serves 6.
Preparation time: 20 minutes.
Cooking time: 1 hour 50 minutes.

Step 1:
Preheat the oven to 325°F. With a sharp knife, trim all the fat and any cartilage from the lamb. Season the meat with salt and pepper.

Step 2:
With a small knife, make slits about 1 inch deep all over the leg of lamb. Using most of the garlic and all the rosemary, push a garlic half or a few rosemary leaves into each of the slits.

Step 3:
In a large roasting pan, combine oil with sweet potatoes, parsnips, and remaining garlic to coat well. Move the vegetables to the side of the pan and place the lamb in the center.

Step 4:
Roast the lamb and vegetables 1 1/2 to 2 hours or until a thermometer inserted into the center of the meat reads 160°F (for medium). Turn the vegetables occasionally so that they cook evenly.

Step 5:
Remove pan from the oven. With a slotted spoon, transfer the vegetables to a serving dish and keep them warm. Transfer the lamb to a carving platter, cover with foil, and let stand for 5 minutes. Slice the roast lamb and serve with the vegetables.
Blue Cheese Mushrooms
1 lb. medium fresh mushrooms 1/4 cup sliced green onions 1 Tbsp. butter or margarine 1 pkg. (4 oz.) ATHENOS Crumbled Blue Cheese 3 oz. PHILADELPHIA Cream Cheese, softened Make It
PREHEAT broiler. Remove stems from mushrooms; chop stems. Cook and stir stems and onions in butter in small skillet on medium heat until tender.
ADD blue cheese and cream cheese; mix well. Spoon evenly into mushroom caps; place on rack of broiler pan.
BROIL 2 to 3 min. or until golden brown. Serve warm.
Kraft Kitchens Tips How to Soften Cream Cheese Place cream cheese in microwaveable bowl. Microwave on HIGH 7 to 10 sec. or until slightly softened.
Spinach-Cheese Triangles
1 pkg. (8 oz.) PHILADELPHIA Cream Cheese, softened 1 pkg. (10 oz.) frozen chopped spinach, thawed, well drained 1/3 cup chopped, drained roasted red peppers 1/4 tsp. garlic salt 12 sheets frozen phyllo (14x9 inch), thawed 1/2 cup (1 stick) butter or margarine, melted Make It
PREHEAT oven to 375°F. Beat cream cheese, spinach, peppers and garlic salt with electric mixer on low speed until well blended.
PLACE 1 of the phyllo sheets on clean work surface. Brush lightly with butter. Cut phyllo into three lengthwise strips. Spoon about 1 tsp. of the filling 1 inch from one end of each strip. Fold end of phyllo over filling at 45-degree angle. Continue folding as you would fold a flag to form a triangle that completely encloses filling. Repeat with remaining phyllo and filling. Place triangles, seam-sides down, on baking sheet; brush with remaining butter.
BAKE 12 to 15 min. or until golden brown. Serve warm.
Kraft Kitchens Tips Size It Up Keep an eye on portion size when you enjoy this rich appetizer. How To Prevent Dough From Drying Out Unfold phyllo sheets; cover with wax paper and a damp towel. Keep covered until ready to use to prevent phyllo from drying out. Make-Ahead Assemble triangles as directed; do not brush tops with butter. Place, in single layer, on baking sheets. Freeze 1 hour or until frozen. Place in freezer container between layers of wax paper. Freeze up to 1 month. Bake as directed, brushing lightly with remaining butter just before baking.
Seafood Salad Pastries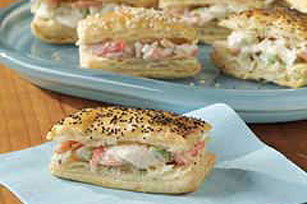 1 pkg. (12 oz.) imitation crabmeat, flaked 1/2 cup KRAFT Real Mayo Mayonnaise 1/2 cup finely chopped green pepper 1/3 cup shredded carrots 1/4 cup GREY POUPON Hearty Spicy Brown Mustard 1 pkg. (17-1/4 oz.) frozen puff pastry (2 sheets), thawed 1 egg white, lightly beaten 2 Tbsp. poppy seed Make It
PREHEAT oven to 350°F. Mix crabmeat, mayo, green pepper, carrots and mustard in small bowl; cover. Refrigerate until ready to serve.
UNFOLD pastry sheets onto baking sheets; brush evenly with egg white. Sprinkle with poppy seed. Cut each sheet into 18 (3x1-1/2-inch) rectangles. Do not separate rectangles.
BAKE 25 minutes. Remove pastry from baking sheets; cool completely. Separate pastry into rectangles. Split each rectangle horizontally in half. Spoon 1 Tbsp. of the seafood mixture onto bottom half of each rectangle; cover with top of rectangle. Serve warm.
Kraft Kitchens Tips Substitute Prepare as directed, substituting 3/4 lb. salmon, cooked and flaked, for the crabmeat.
Turkey with Barbecue Spice Rub

1 bottle (1 oz.) paprika 2 Tbsp. granulated sugar 2 Tbsp. brown sugar 2 Tbsp. ground cumin 2 Tbsp. chili powder 2 Tbsp. salt 2 Tbsp. freshly ground black pepper 1 Tbsp. ground red pepper (cayenne) 1 frozen whole turkey, thawed (10 lb.) Make It
MIX paprika, sugars and seasonings until well blended.
RINSE turkey with cold water; pat dry. Rub seasoning mixture evenly onto turkey. Refrigerate at least 1 hour.
BAKE turkey as directed on package.
Kraft Kitchens Tips Cooking Know-How Rubbing the turkey with the spice rub at least 15 minutes before cooking helps to intensify the seasoned flavor of the cooked turkey.
Cranberry Lemonade Spritzer
1 tub CRYSTAL LIGHT Pink Lemonade Flavor Drink Mix 1 bottle (48 oz.) reduced calorie cranberry juice cocktail 1 bottle (1 liter) seltzer, chilled Make It
PLACE drink mix in large plastic or glass pitcher. Add cranberry juice cocktail; stir until drink mix is dissolved. Refrigerate several hours or until chilled.
POUR into punch bowl when ready to serve. Add seltzer. Serve over ice cubes.
Kraft Kitchens Tips Substitute Substitute CRYSTAL LIGHT Lemonade Flavor Drink Mix for CRYSTAL LIGHT Pink Lemonade Flavor Drink Mix.
Quick Italian Spinach Pie
1 container (16 oz.) BREAKSTONE'S or KNUDSEN 2% Milkfat Low Fat Cottage Cheese 1 pkg. (10 oz.) frozen chopped spinach, thawed, well drained 1 cup KRAFT Shredded Low-Moisture Part-Skim Mozzarella Cheese 4 eggs, lightly beaten 1 jar (7 oz.) roasted red peppers, well drained, chopped 1/3 cup KRAFT Grated Parmesan Cheese 1 tsp. dried oregano leaves Make It
PREHEAT oven to 350ºF. Mix all ingredients until well blended.
POUR into greased 9-inch pie plate.
BAKE 40 min. or until center is set.
Kraft Kitchens Tips Substitute Substitute 1/2 cup chopped red bell peppers for the roasted peppers.
Upside-Down Coconut-Maple Corn Muffins
1 pkg. (8-1/2 oz.) corn muffin mix 1/2 cup maple-flavored or pancake syrup 1/2 cup BAKER'S ANGEL FLAKE Coconut Make It
PREPARE muffin mix as directed on package, placing 1 Tbsp. each syrup and coconut in each of 8 prepared medium muffin cups before pouring in batter.
BAKE muffins as directed on package; cool slightly.
SERVE coconut-sides up.
Kraft Kitchens Tips Great Substitute Substitute 1/4 cup finely chopped PLANTERS Pecans for 1/4 cup of the coconut.
Turkey 101
THAW turkey in unopened wrapper, breast-side up, on a tray in the refrigerator. See chart for thawing time.
REMOVE neck and excess fat and giblets from chest cavity.
RINSE cavity and outside of turkey with cold water. Blot with paper towels.
SEASON cavity and area under the skin with salt, pepper and herbs. Try poultry seasoning, thyme, sage or marjoram.
If your family tradition calls for stuffing the bird, check out our STOVE TOP In-the-Bird Directions. Don't forget to use a thermometer to be sure that the temperature of the stuffing inside the bird reaches 165°F.
HELP bird cook evenly by making it as compact as possible. Tuck legs into ring of skin that they were originally in when you unwrapped. Fold first joint of wings underneath bird's back.
GRAVY is most flavorful if the turkey is cooked on a bed of carrots, celery and onions. Quarter the onions, peel and trim the carrots and celery, but do not chop. Lay carrots and celery in a lattice pattern with onions in between on the bottom of a large roasting pan and place turkey on top of the vegetables.
BRUSH skin with vegetable oil to prevent it from drying out during roasting.
INSERT a meat thermometer deep into the thickest part of the thigh next to the body. Make sure it does not touch the bone. If you don't have a meat thermometer that can stay in the oven, you can also check for doneness with an instant-read thermometer near the end of the estimated roasting time.
ROAST at 325°F for indicated time (see chart above) - basting is unnecessary. When the skin turns brown, about two thirds of the way through roasting, shield the breast loosely with a sheet of foil to prevent overbrowning.
CHECK for doneness. The internal temperature of thighs should be 180°F on a meat thermometer. The thigh and drumstick meat should feel soft when pressed, and when the thigh is pierced with a fork the juices should run clear, not pink.
Remove turkey from oven. Place on cutting board resting in a large cafeteria-style tray with a lip or on a flat aluminum foil tray.
Tent the cooked turkey with foil. Let stand for 15-20 min. This resting time allows the juices to saturate the meat evenly for the most tender turkey
Christmas Pudding
Ingredients
1 1/2 cups raisins, chopped
2/3 cup dates, pitted and chopped
1 cup soft dried figs, chopped
1 cup currants
3/4 cup golden raisins
1/2 cup brandy
2 sticks (8 ounces) unsalted butter
1 cup dark brown sugar, firmly packed
grated zest of 1 lemon
grated zest of 1 orange
4 eggs, beaten
1 cup blanched almonds, chopped
3/4 cup all-purpose flour, sifted
1 teaspoon cinnamon
1/2 teaspoon nutmeg
1 teaspoon ground allspice
1 teaspoon ground ginger
1 1/2 cups fresh white bread crumbs
Introduction:
No traditional Christmas dinner is complete without pudding. It is best if allowed to mature for at least two days before serving, but it can be made up to three months ahead.

Makes 12 to 16 servings.
Preparation time: 5 hours and 3 days.

Step 1:
Grease a 2-quart ceramic mold or casserole.

Step 2:
In a large bowl, place all the fruit and pour the brandy over it. Stir well to disperse the brandy. Cover with a towel and set aside to macerate 12 to 24 hours.

Step 3:
In a large bowl, with an electric mixer on high, beat the butter and sugar until thick and creamy. Beat in the zests and eggs. Fold in the fruit and almonds. Add the flour and spices, combining well, then fold in the bread crumbs.

Step 4:
Spoon the mixture into the prepared mold, press down well, and level the surface. Cut a sheet of wax paper 2 inches larger than the top of the mold. Pleat the wax paper twice through the center to allow for expansion as the pudding rises. Place the paper on top of the pudding and cover it with a twice-pleated double thickness of foil. Tie foil securely to the edge of the mold with string.

Step 5:
Place the mold on a rack in a Dutch oven or other large covered pot. Pour boiling water into the Dutch oven until it is halfway up the side of the mold. Keep water at a gentle boil. Steam for 4 hours, topping the boiling water to the same level when necessary.

Step 6:
Remove the mold from the Dutch oven and set on a rack to cool. When thoroughly cooled, rewrap with fresh wax paper and foil, and store in the refrigerator until ready to serve.

Step 7:
Steam again for 2 hours or microwave to reheat before serving.


Cranberry Punch
Ingredients
2 cups cranberry juice
2 cups pineapple juice
1 cup orange juice
3/4 cup triple sec (optional)
1 pint strawberries, hulled and sliced
1 lime, thinly sliced
4 cups ginger ale, chilled
Introduction:
This sparkling red punch is a good choice for a buffet at holiday time with a citrus bite. For a less sweet punch, substitute seltzer or club soda for the ginger ale.

Makes about 1 1/2 quarts.
Total time: 20 minutes, plus chilling time.

Step 1:
In a large glass container, combine ingredients and chill thoroughly.

Step 2:
Just before serving, slowly stir in the ginger ale. Pour into a punch bowl or large jug and add ice cubes.